Our clients are our only priorities. It is also our duty to simplify and Streamline everything for them. Below are our recommendations that are expected to help clients of the Magento2 GCP Cloudkul Silver Plan (https://store.webkul.com/magento2-google-cloud-silver-plan.html). Magento2 GCP (Google Cloud Platform) Cloudkul Silver plan offers a one-time setup and installation.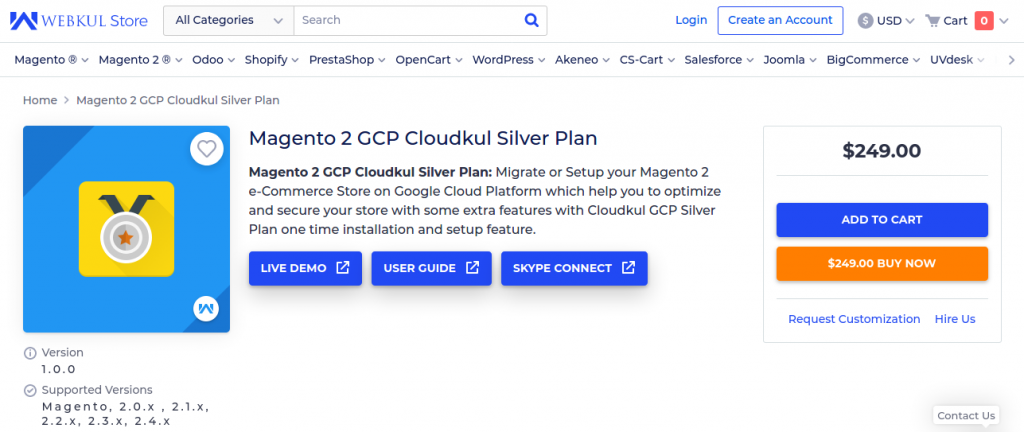 Note:
This installation and optimization plan is exclusive for Linux based Operating systems only.
It's a one-time set-up installation.
It's only a server-side optimization plan.
Features
LAMP
SSH
SFTP
PhpMyAdmin
SMTP
Mail Integration
DNS Mapping
Support Period
LAMP (Linux, Apache, Mysql & PHP/Python/Perl)
LAMP is an abbreviation for Linux, Apache, MySQL, and PHP. Also, this stack provides a variety of open-source web-based software to deliver high-performance web applications.
SSH (Secure Shell)
Generally, it's a protocol that provides encryption for network services over an unprotected network.
SMTP (Simple mail transfer protocol) is an email transmission protocol. Furthermore, through SMTP Integration, we help you to integrate your current email services or new mail services with the specified e-commerce store.
PhpMyAdmin is a PHP-based open-source platform developed to administer MySQL over the Network. It supports a variety of operations on MySQL and MariaDB, such as database management, tables, columns, indexes, authorizations, and users, etc.
In Mail Integration package we help you to integrate your present email services or new mail services with the specified Ecommerce store. We need SMTP settings of your email hosted on your domain or any other private email service provider which you want to configure within your Ecommerce store/magento. We provide specific Ecommerce/magento framework specialist to configure SMTP settings in that particular framework.
In DNS Mapping, we will provide you the feature to map your website with your existing domain. Besides this, DNS Mapping will help you and your customers to access your server easily and efficiently without knowing the IP of your existing server.
Support Period
Till date, we are providing three kinds of support.
1. Plan Support: In Magento2 GCP Cloudkul Silver Plan, we will provide a support period of 7 days with an SLA of 24 hours to the customer. The support Period varies according to the Plans. To know more, just click the link- https://cloudkul.com/features/support-period/.
2. Hourly Support: This is a support where you can purchase hours to fix glitches or bugs. You just have to address concerns with our team. And then buy an Hourly Customization Package. And we'll start working on your project. Meanwhile, you can purchase different packages. As we are having 10 (basic package hours), 20, 30, and 50 hours packages. Also, you can purchase this additional support via https://store.webkul.com/Hourly-Package-For-Customization.html.
3. Priority Support: This is the priority support which addresses all the crucial issues raised by the client. Also, this support will be provided24/7. You can access this additional support via https://cloudkul.com/contact/. For more information, just check out the below description.
Priority Support
This is the priority support which addresses all the crucial issues raised by the client. This support will be provided 24/7. Therefore, the incidents covered by the package are listed below.
Package Types
| | |
| --- | --- |
| Name Of Package | Incident Calls Provided |
| Basic | 1 |
| Silver | 4 |
| Gold | 8 |
| Platinum | 16 |
Terms and conditions
If the incident is triggered during our non-working hours (19:00 IST-9:30 IST), it would take us a minimum of 2 hours to arrange the services on a non-working day.
The pricing of the P1 plan is based on the fact that the response time will be very less. Since it is a priority or critical issue and also we need to keep the resources handy when in need.
Credentials Required
If you choose to have your CDN on cloudflare, provide your cloudflare credentials as well so that we can configure CDN accordingly.
GCP credentials
We need GCP credentials. We'll initially setup your VM instance ( E2-micro – 2 vCPUs, 2 GB memory) and CloudSQL (vCPU – 1, Memory – 614 MB and SSD storage- 10 GB), which can be changed according to the need in future or as per client choice.
GCP region
Please let us know in which GCP region you want to set up your server. Please select your region nearest your customer.
DNS Credentials
Provide the login details of the account from which you have bought your domain name (ex: Godaddy etc) This would be required to change the Nameservers while DNS mapping.
Domain name
We require Domain name of the website for the Magento2 setup.
FAQ's
What is Magento2 GCP Cloudkul Silver Plan?
We found that most peoples have issues with the speed of their website. So we consider and provide you with a solution. Therefore, we've exclusively crafted and delivered the Magento2 GCP Cloudkul Silver Plan. In which we use certain techniques to improve the performance of your website and make the site incredibly fast.
Will It Be Useful For My Website?
Of course, it all starts with the speed of the website. For instance, if the speed of your website is fast, you are likely to have higher conversion rates and lower bouncing rates. Similarly, a well-optimized website lets consumers create, sustain, and expand, resulting in productivity and development. Give it a trial to take advantage of its incredible features!
Under This Plan, Can I Choose Another Provider For Cloud Hosting Instead Of GCP?
This package is crafted exclusively for GCP. So it only supports GCP infrastructure.
What Type Of Access/Credentials Do You Need To Start Setting Up The Plan?
We need your GCP, Cloudflare, DNS, and SMTP credentials. In addition, we promised you that we will hold all passwords private and once we complete the configuration, we would update it and hand it over to you. We have made your safety a high priority for us.
How Do I Know, If My File Or Services Have Been Altered?
For this, we use tools that will provide you with real-time alerts about your server resources. Therefore, we would establish a common threshold for each and every tool and optimize the tracking component that lets you identify the issue and provide you with the real-time insight to fix or address the key trigger of the issue.
If Errors Arise After The Configuration Period, Is There Any Kind Of Support Offered To Me?
After the Server configuration is completed, we provide a Support Period of 30 days to our customers. So that they can check and ensure the configuration. Moreover, we mainly address Configuration Setup and Configuration issues (Issues Regarding third party Modules are not included in this support).
How Do We Communicate?
The mode of Communication is Ticket, Email ([email protected]), and Chat.
Thus, If you have any more questions, doubts, and queries, please feel welcome to contact us as we will be happier to help.
Therefore, you just need to create a support ticket here: http://webkul.uvdesk.com/
Thanks For Reading!
In short, we hope it works for you! And during this blog, you have found something valuable.